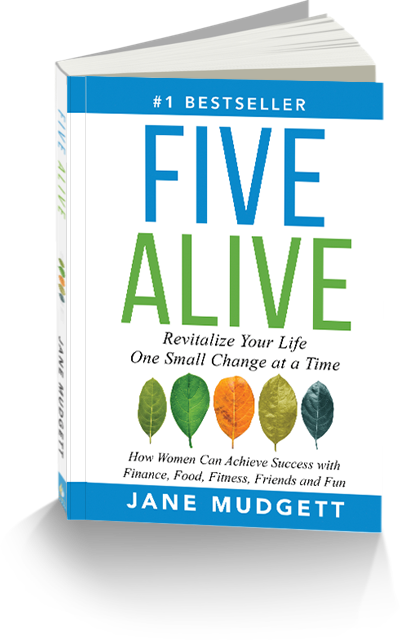 "I loved reading this book and using the practical ways Jane puts together her steps to help in every area. Her encouraging way of telling her stories left me inspired and encouraged to continue to move forward. This book is a gem. As I go through different cycles in my life and one or two areas start to suffer – it will be nice to revisit the chapter that I might need to strengthen that area of my life. In addition, I was able to witness a presentation by Jane about her book's concepts! It was great! If you are an organization needing inspirational speakers with great ideas, I highly suggest having Jane as a guest." Jillian S.
We spend. We eat. We move. We relate. We connect. – that's what Five Alive is all about.
It begins with four critical components – Finance, Food, Fitness, and Friends – each significant to longevity, health, and a gratifying lifestyle. Fun closes the loop by revealing how interests and pastimes inspire creativity, communication and human connections.
"Take your life off cruise control: Drive it!"
First, the reader must acknowledge that it's never too late to make small, incremental improvements in their lifestyle. The impetus is to use ongoing positive nudges to ensure greater personal success.
A non-judgmental approach is combined with anecdotes and research to support new behavior and thinking. The reader will be stimulated to reflect on their own experiences as a catalyst to accept and integrate new lessons. Exercises and questions are used throughout the book to connect the readers to ideas and then create action plans.
Each chapter has specific recommendations animated with personal stories, hacks and "Mudge Nudges" to encourage the reader.
There is so much in life that we cannot control, but we can control and influence our behavior regarding Food, Fitness, Finance, Friends, and Fun.
Five Alive is a tool that works for the reader.
The reader may read the book in section sequence or simply focus on the areas they score and identify as ready for self-improvement.
Available now on Amazon.